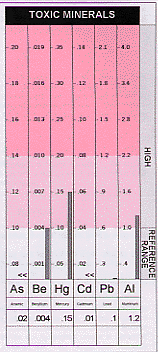 Hair Mineral Analysis
Mercury and other heavy metal toxins can cause almost any health problem. Porphyria can be induced by heavy metals. Mineral deficiencies can also cause many health problems. This is an important test for everyone to do every year or so.
The EPA has said that hair is the most accurate tissue to test for long-term exposure to mercury, lead, arsenic and other toxic/heavy metals. Our test comes with an analysis of about 35 toxic and nutritional minerals and a lengthy report (emailed to you) and up to a half hour consultation with the author by phone. It is very important to ascertain if a heavy metal problem exists. Disclaimer: This test is not for diagnosing or treating any medical condition. Please consult your physician for medical diagnosing and treatment. . Available only for readers of my books. NOT Available to New Yorkers. Fee: $135. which includes a lengthy report emailed to you and graphs and 1/2 hour consult with the author about the results. UPDATE: Our same, leading lab also does dogs and horses. Like humans, they need to have their heavy metals and nutritional minerals tested also to be well.. Note: Steven Rochlitz is not a licensed physician or veterinarian. But he is one of the world's leading experts on heavy metal poisoning. He tests his own hair every 6 months as this test saved his life due to mercury poisoning.
ALLERAIR AIR FILTERS
Throughout my career in holistic health I have only distributed a few health products that I first bought and used myself.
Now you know the importance of breathing good air for general health and longevity. This is even more important for people with allergies, MCS, asthma, COPD or other respiratory problems. If you live in a town or city with polluted air—as most are—it is also imperative to filter the air.
For the last 15 years, the only air filters I've owned are from the AllerAir brand. My first one is now 15 years old and still going strong. So I asked, and just became, an authorized distributor of AllerAir air filters. I do not plan to sell any other brands. All AllerAir parts come from and are manufactured in North America--USA and Canada. They have a 10 year limited warranty, not counting the replaceable filter elements. This is 5 years on parts and labor and an additional 5 years on parts.
The units have 3 elements: [1]pre-filter, [2]true HEPA or Super HEPA filters and [3]carbon or carbon blends. The HEPA and Super HEPA filters stop 99.97% and 99.99% respectively of particulate matter –dust, pollen, mold spores, etc.--down to 0.3 microns. The carbon stage is for filtering out gases, odors and chemicals, including VOCs, formaldehyde, cleaning chemicals, etc. The carbon and HEPA stages are good for 2-5 years. The AllerAir filters are said to have the most carbon and the deepest bed of carbon of any brand of filters. All units have a metal housing and no plastic. A robust industrial design allows for 24/7operation. There are no digital parts to set or repair, just a simple plug and play design for worry-free operation.
AllerAir's special MCS units have a choice of 6 carbon blends, and there is a kit containing jars of the 6 carbon blends that can be bought and sampled or muscle tested first. The fee is deducted when you buy a unit.
The MCS units have the prefilter made of organic cotton and the motor is "burned in" before shipping. All their filters can be made with 220 Volts and can be shipped to almost anywhere in the world.
Prof. Rochlitz will offer his readers 10% off the list price of any unit or replacement parts. As an additional gift, your choice of any of the author's in-stock, acclaimed health books will be separately shipped to the new buyer of our AllerAir filter units. This is up to a $40. value.
Please email me: rochlitz [@] wellatlast.com [retype] with your phone # now to discuss the best unit for you depending on the size of your room or home, the local pollution, and your health concerns. I will then call you.
---