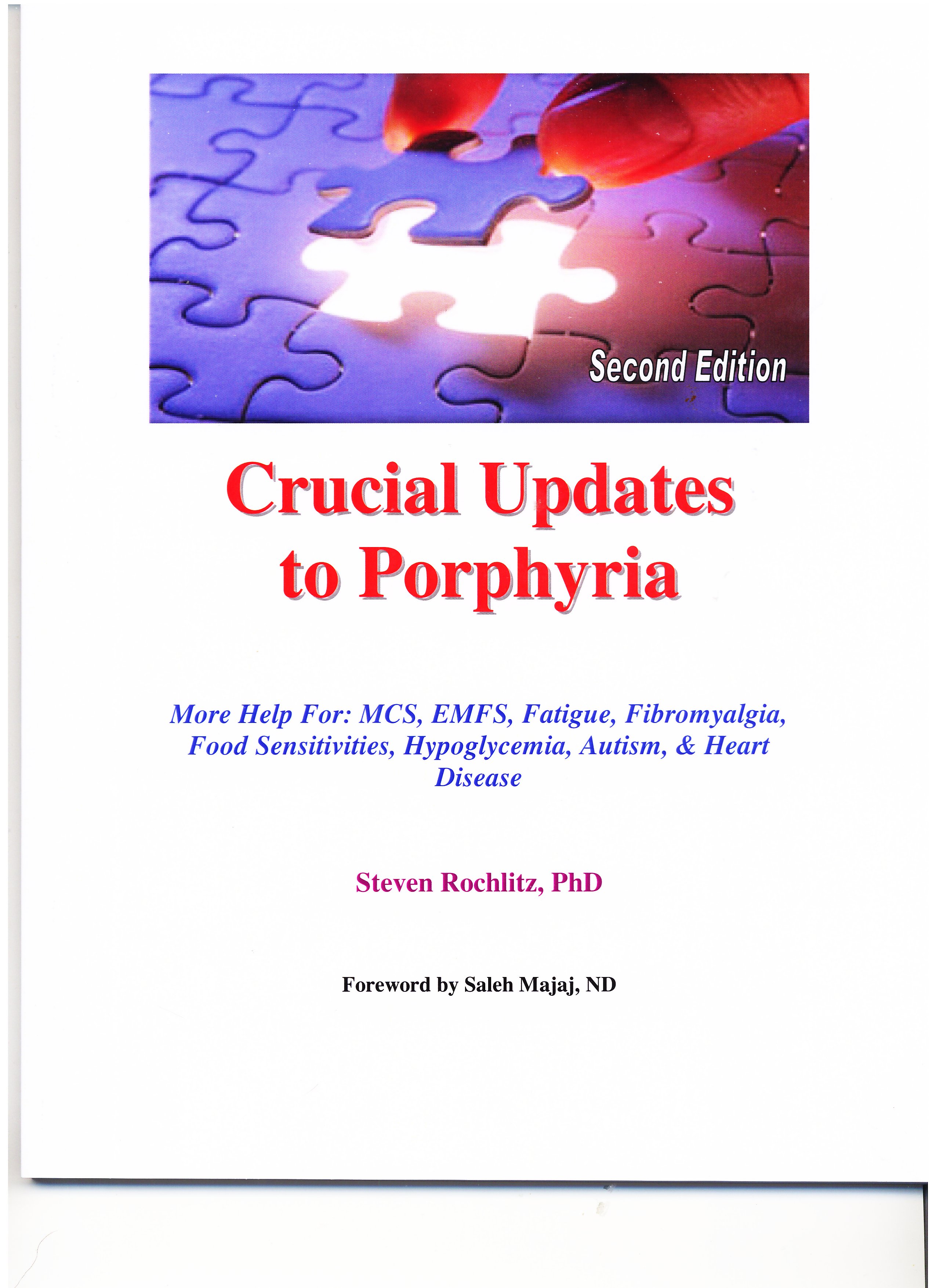 CRUCIAL UPDATES TO PORPHYRIA, 4th Ed.
A new book with different information, not in the main PORPHYRIA: The Ultimate Cause book, which has 192 pages, large size. Again, this is a completely different book with 126 pages.

Order this book ONLY if you have previously ordered Porphyria: The Ultimate Cause... book from US. [We refund non-compliant attempts.]
Topics include: how (usually hidden) porphyria weakens the immune system, and why supplements do not overcome this; new supplements for heart health, stomach or bladder distress; what holds people back from wellness; which foods are proven to cause mast cell disease, new protocol for heart failure, and much more.
.If you have the book,. Porphyria: The Ultimate Cause of Common, Chronic or Environmental Illnesses. With Breakthroughs in Diet, Supplements and Energy Balancing, you need this updates to it.
NOW with the "HOLY GRAIL":Proof that British Physicians declared that "Porphyria is NOT a rare disease."
The latest printing now has the historic proclamation, and evidence, from Prof. Rochlitz, that "Porphyria and Mast Cell Disease are COMMON disorders."
Incudes Rochlitz' greatest cases: An Autism Cure, MCS cure, bringing back a flatliner, and more on the intersection of pyroluria and lyme's with the key: Porphyria.
Oversized Book, 8.5 inches X 11 inches. Perfect bound. © 2018,2017, 2015 2013. ISBN-10:0-945262921 33 chapters, 126 pages. 2 Appendices. Index. ISBN: 978-0-945262-921
Foreword by Saleh Majej, ND.
Price: $25.00 plus shipping--$7.00 to USA, $14.00 to Canada, $19.00 to Overseas.
More Help For: Porphyria, pyroluria, mercury amalgam illness, MCS, EMFS, Fatigue, Fibromyalgia, Food Sensitivities, Hypoglycemia, Autism, & Heart Disease
If you meet the above terms only, you may order. Please click on the arrow to elect destination.
---