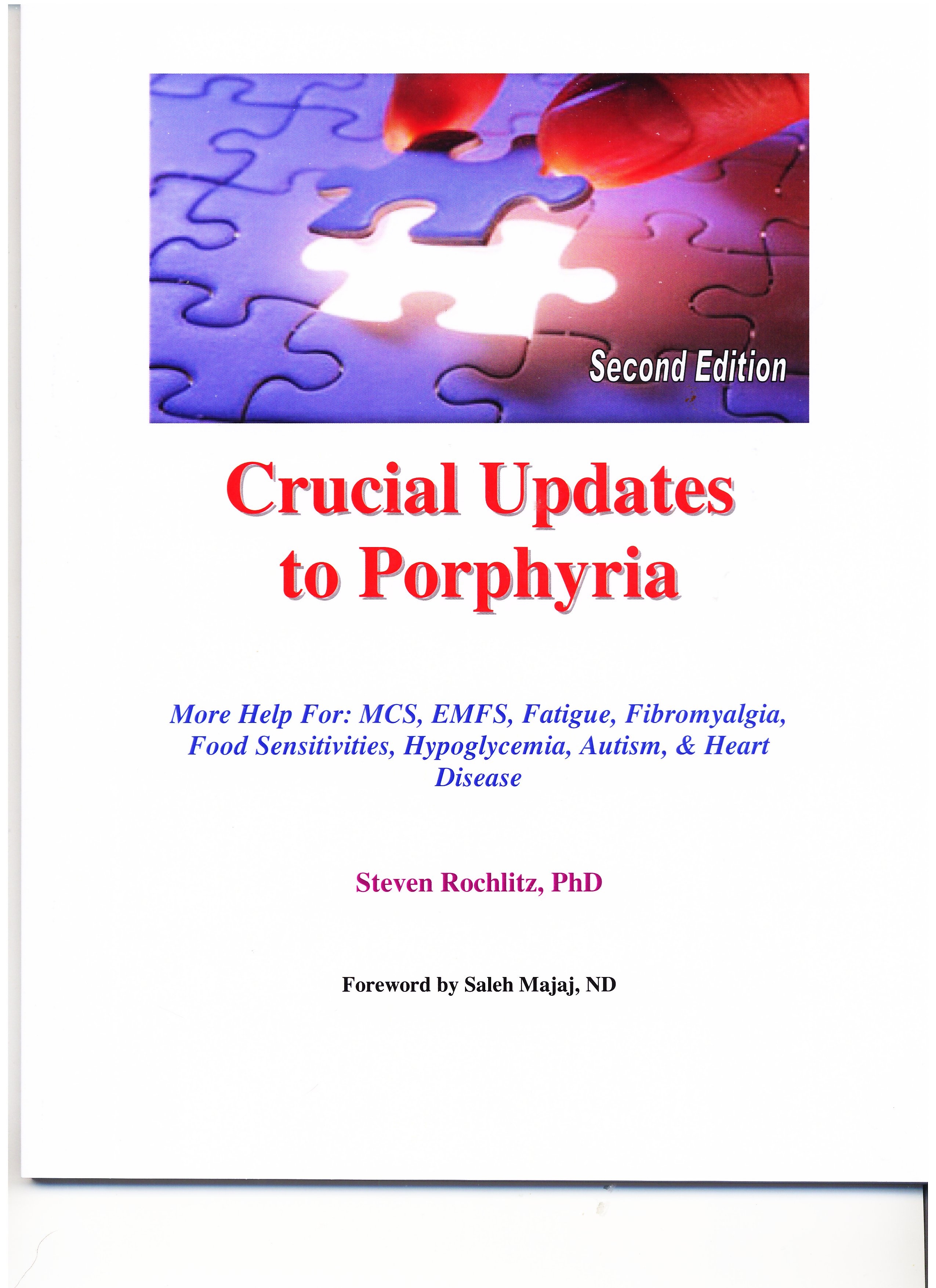 CRUCIAL UPDATES TO PORPHYRIA, 4th Ed.
This is our second book on Porphyria and related matters. This has different information, not in the main PORPHYRIA: The Ultimate Cause book, which has 192 pages, large size. Again, this is a completely different book with 126 pages, large size.

Order this book ONLY if you have previously ordered Porphyria: The Ultimate Cause... book from US. [We refund non-compliant attempts.]
Topics include: how (usually hidden) porphyria weakens the immune system, and why supplements do not overcome this; new supplements for heart health, stomach or bladder distress; what holds people back from wellness; which foods are proven to cause mast cell disease, new protocol for heart failure, and much more.
.If you have the book, Porphyria: The Ultimate Cause of Common, Chronic or Environmental Illnesses. With Breakthroughs in Diet, Supplements and Energy Balancing, you need this additional information.
● How porphyria has recently been proven to weaken key components of the immune system. Dealing with "hidden" porphyria is far more crucial than taking many supplements for boosting the immune system.
● NOW with the "HOLY GRAIL":Proof that British Physicians declared that "Porphyria is NOT a rare disease."
● The latest printing now has the historic proclamation, and evidence, from Prof. Rochlitz, that "Porphyria and Mast Cell Disease are COMMON disorders."
●Has the latest findings for Porphyria and for Mast Cell Disease or MCAS.
● Prof. Rochlitz's new, profound discovery of the cause of porphyria in people descended from several European countries. This is found nowhere else and indicates the accepted etiology is incorrect.
● Includes Rochlitz' greatest cases: An Autism Cure, MCS cure, bringing back a flatliner, and more on the intersection of pyroluria and lyme's with the key: Porphyria.
Oversized Book, 8.5 inches X 11 inches. Perfect bound. © 2018,2017, 2015 2013. ISBN-10:0-945262921 33 chapters, 126 pages. 2 Appendices. Index. ISBN: 978-0-945262-921
Foreword by Saleh Majej, ND.
Price: $29.00 plus shipping--$8.00 to USA, $19.00 to Canada, $26.00 to Overseas.
More Help For: Porphyria, pyroluria, mercury amalgam illness, MCS, EMFS, Fatigue, Fibromyalgia, Food Sensitivities, Hypoglycemia, Autism, & Heart Disease
If you meet the above terms only, you may order. Please click on the arrow to elect destination.
---